Mental Health Awareness
During the month of May, the Latino Equality Alliance launched a mental health ambassadors program where we encouraged people to share on social media anything related to mental health as well as the poster pictured here. If you would like physical copies of the poster, feel free to contact outreach@latinoequalityalliance.com.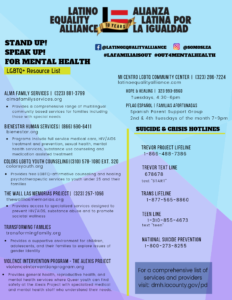 Mi Centro LGBTQ Community Center |  (323) 286-7224
latinoequalityalliance.com
Offers a variety of support groups and programs:

Hope & Healing |  323 993-8960

A support group for those troubled by attacks on the Latinx community. Personal sessions with a licensed therapist are available free of charge, an appointment can be arranged by calling.

PFLAG español | Familias Afortunadas

A Spanish language support group for parents and friends of LGBTQ people. Every 2nd & 4th Tuesdays of the month, 7-9pm.
ALMA Family Services | (323) 881-3799
almafamilyservices.org
Provides a comprehensive range of multilingual community-based services for families including those with special needs.
BienEstar Human Services | (866) 590-6411
bienestar.org
Programs include full-service medical care, HIV/AIDS treatment and prevention, sexual health, mental health services, substance use counseling and medication-assisted treatment.
Colors LGBTQ Youth Counseling | (310) 578-1080 ext. 320
colorsyouth.org
Provides free LGBTQ-affirmative counseling and healing psychotherapeutic services to youth under 25 and their families.
The Wall Las Memorias Project | (323) 257-1056
thewalllasmemorias.org 
Provides access to specialized services designed to prevent HIV/AIDS, substance abuse and to promote societal wellness.
Transforming Families 
transformingfamily.org
Provides a supportive environment for children, adolescents, and their families to explore issues of gender identity.
Violence Intervention Program – The Alexis Project
violenceinterventionprogram.org
Provides general health, reproductive health, and mental health services where Queer youth can find safety at the Alexis Project with specialized medical and mental health staff who understand their needs.