Our Work
The mission of the Latino Equality Alliance (LEA) is to promote liberty, equality, and justice for the Latina/o lesbian, gay, bisexual, and transgender community. As a non-profit organization with a strong focus on family acceptance, LGBT equality, and immigration reform; LEA engages Latina/o LGBT community leaders and organizations in direct action organizing to address issues of bullying, homophobia, xenophobia, family separation, violence against youth, homelessness, high health risk behaviors and HIV/AIDS.
Our History
LEA is a grassroots organization established in November 2008 as an alliance of individuals and representatives from several organizations who came together to work on the No on Proposition 8 campaign in East Los Angeles (Prop 8 was the anti‐marriage equality ballot initiative).  As a result of No on Prop 8 work in both the LGBTQ and Latino communities, LEA founders recognized a need to coordinate efforts to increase support of LGBT people and issues in the Latino community.   LEA is active in community organizing and building support for LGBTQ rights throughout Los Angeles County through a variety of activities including public education, community forums, organized actions, coalition building and leadership development.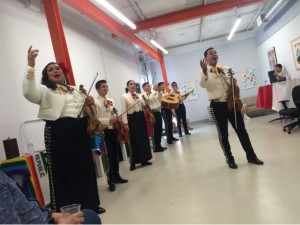 In 2015, in partnership with Los Angeles LGBT Center, LEA celebrated the opening of its new home at Mi Centro LGBTQ Community Center – Boyle Heights located at 553 S. Clarence Street, Los Angeles, CA 90033.  Phone: 323-286-7224.
Our Work
Latino Equality Alliance is committed to recruiting and developing leaders in the Latino/a LGBTQ community to continue the work of bringing equality and justice to our community. LEA utilizes the tools of advocacy, community engagement and public education to build healthy and safe environments for LGBTQ community.
Programs:
Leadership Development – Latino Equality Alliance offers trainings and opportunities to develop the advocacy and leadership skills of LGBTQ individuals.
Community Outreach – Through outreach and civic engagement, Latino Equality Alliance provides visibility and resources at community events, schools, social venues and fairs.
LGBTQA Youth Council – The LGBTQA (Lesbian, Gay, Bisexual, Transgender, Queer and Ally) is to build leadership and community organizing skills in order to create a safer, more inclusive and supportive spaces at home, school and in the communities in which we live.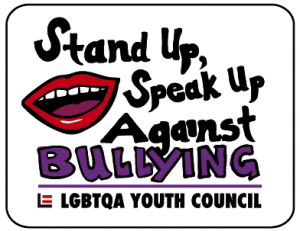 We meet every 2nd Monday of the month at Mi Centro LGBTQ Community Center (553 S. Clarence St., Los Angeles, CA. 90033) in Boyle Heights. Monthly gatherings include presentations, workshops, leadership training, college application support, field trips and social events.
All students age 13 to 21 are invited to participate.
Anti-Bullying School Climate Public Education Initiative – Latino Equality Alliance offers a series of audience appropriate workshops to students, parents and school administrators in area high schools with a goal to develop a safe school climate for LGBTQ youth.
For more information on programs and/or to request an outreach participation please contact Director of Public Education, Juan Castillo-Alvarado at education@latinoequalityalliance.com
Leadership Recognition:
2009 "New Faces of The LGBT Movement Recognition" by City of Los Angeles
2010  "Valued Partner" U.S. Census 2010
2011  "Grassroots Leaders To Watch" by Liberty Hill Foundation
2011  "Organization of the Year" by the Stonewall Democratic Club
2011   "Equality Work in East L.A." by State Senator Gilbert A. Cedillo
2012   "LGBT Leadership and Pride Recognition" by State of California
2013   "Exceptional Leadership" by the Speaker of the CA Assembly, John A. Perez
2013  "2013 Hot List" of LGBT Leaders, Frontier LA Magazine
2013   "Community Partner" by Marriage Equality USA