Liberty Hill Foundation Blog: Reflections by 2011 Leaders to Watch
2011 Leader Watch: Ari Gutierrez and Eddie Martinez Reflect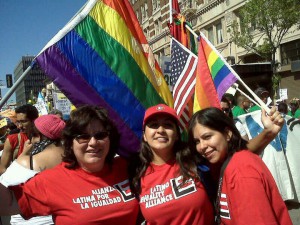 Each year, Liberty Hill recognizes members of our extended community as "Leaders to Watch." In January 2011, we interviewed our 2011 Leaders to Watch about their goals and concerns, then checked in with them throughout the year. In late December, we caught up by phone and email for their year-end reflections.

Our 2011 Leaders to Watch were Tammy Bang Luu of Bus Riders Union/Labor Community Strategy Center (LCSC) Ari Gutierrez and Eddie Martinez of Latino Equality Alliance, Gloria Walton of Strategic Concepts in Organizing and Policy Education (SCOPE), Isella Ramirez of East Yard Communities for Environmental Justice and Xiomara Corpeño of Coalition for Humane Immigrant Rights of Los Angeles (CHIRLA).
Ari and Eddie sent us reflections on highlights of their year as co-chairs of Latino Equality Alliance.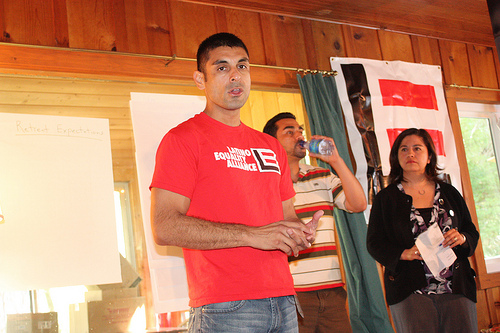 "As a co-founders of the Latino Equality Alliance (LEA), our experience as a designated "Leaders to Watch" by The Liberty Hill Foundation has been a great opportunity to provide a greater voice for the Latina/o LGBT community. At first, the recognition and focus on us personally for the work we do on behalf of our community was a surprise and a slight distraction since we had been comfortable behind-the-scenes leaders. But at LEA's Leadership Summit in January 2011, feedback from our board members was positive and they noted that we were "becoming celebrities" for the cause. Of course, that is not our style but we appreciated the encouragement and recommitted to our role as messengers for our Latina/o LGBT community.
This recognition by Liberty Hill has proven to be a stepping stone to developing not only a greater voice and visibility for our organization and the community work we do, but also has challenged us to better define and articulate our organizational message and our presentation style. The added public speaking coaching we received through Liberty Hill was helpful in helping us burnish our skills so that we would articulate the most important messages and present them in the most compelling ways. Gratefully, during our year as "Leaders to Watch" we were able to maximize our turn in the spotlight on several occasions.
Early in 2011, The Latino Equality Alliance was voted Organization of the Year by the Stonewall Democrats. In light of LEA's mission to increase support for Latino LGBT people and issues among Latino and LGBT communities, this was an important recognition because it provided new context for our work and we were able to reach an influential LGBT audience – a clear "win" in promoting our message for racial equality. As leaders, we know the work is accomplished only with the support of our fellow Board members, stakeholders and community so we were pleased, in a dramatic moment during our acceptance speech, to acknowledge the high number of Latina/o LGBT leaders that were in the audience.
For National Spirit Day, a day when we remember the lives lost to LGBT bullying, LEA hosted and Eddie led a community vigil at Bell High School that acknowledged our shared struggles and remembered everyone that has been a victim of bullying. We were proud to engage the more than 250 young people who participated in the event. Teens, parents and community members spoke about their struggles with bullying and their gratitude for the chance to experience community support.